What's New with My Site?
URDU MULTIMEDIA:
Merhaba Urdu Friends,
You know about "urdu multimedia?" Now it very eay to desgin 2D - 3D animation, creat easy Webpages with html & Flash, Apply Java & VB applications, Make Presentation & Creat Video Files also.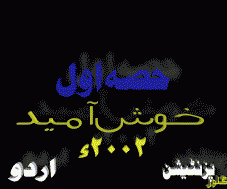 What's New with My Subject?
If I didn't include a news section about my site's topic on my home page, then I could include it here.