Professional Skills:
* Media Graphic designing, Newspaper & Magazines
layout designing,
* Photo Editing, Mixing & Digital Effects with
CMYK color separation.
* Mens Garment Graphic Designing with all
accessories.
* Digital Sign board designing, Presentations,
VHS to VCD conversion, Audio & Video editing,
Illustration & Animation.
* Designing English & Arabic Fonts. Web page
Designing with English & Arabic.
* Typing, Designing & Animation with Arabic,
English, Persian & Urdu.

Objective:
I have my focus set onto any challenging position that would help me make use of my potential & skills. I would like to join a team of enthusiastic professionals who, being efficient in putting their knowledge and experience into use are also continually expanding their knowledge base to keep abreast with the rapidly developing organizations.
Project Undertaken:
Designed Suit for Emirates Airlines in Paris Group LLC - Sharjah (UAE)
Designed Uniform for Emirates Transport in Paris Group LLC - Sharjah (UAE)
Jeans Pant with Accessories Designed for DO/MA/NI (Italian Company)
Suit Designed & Shirts Designed for banzalini (European Brand)
Designed and printed The Arabic Manuel for India's most famous Ayurvedic and
Cosmetics company ''The Himalaya." Designed Patterns and Accessories for International reputed brands.

Send mail
Areas of Interest:
Newspapers & Magazines, Publishing, Web Graphic Designing, Digital Photo Studio & Garments Graphic Designing.
Graphic Designing, Illustration, Animation, Presentation & Digital Sing Boards. Video Tape to VCD conversion,
CD Writing, Audio & Video editing, TV Advertisements & Cartoon Movies.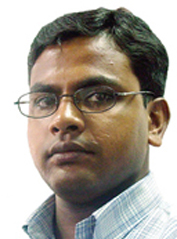 arabic/english/persian/urdu GRAPHIC DESIGNER
Adding captions makes my pictures more interesting.
Send an email